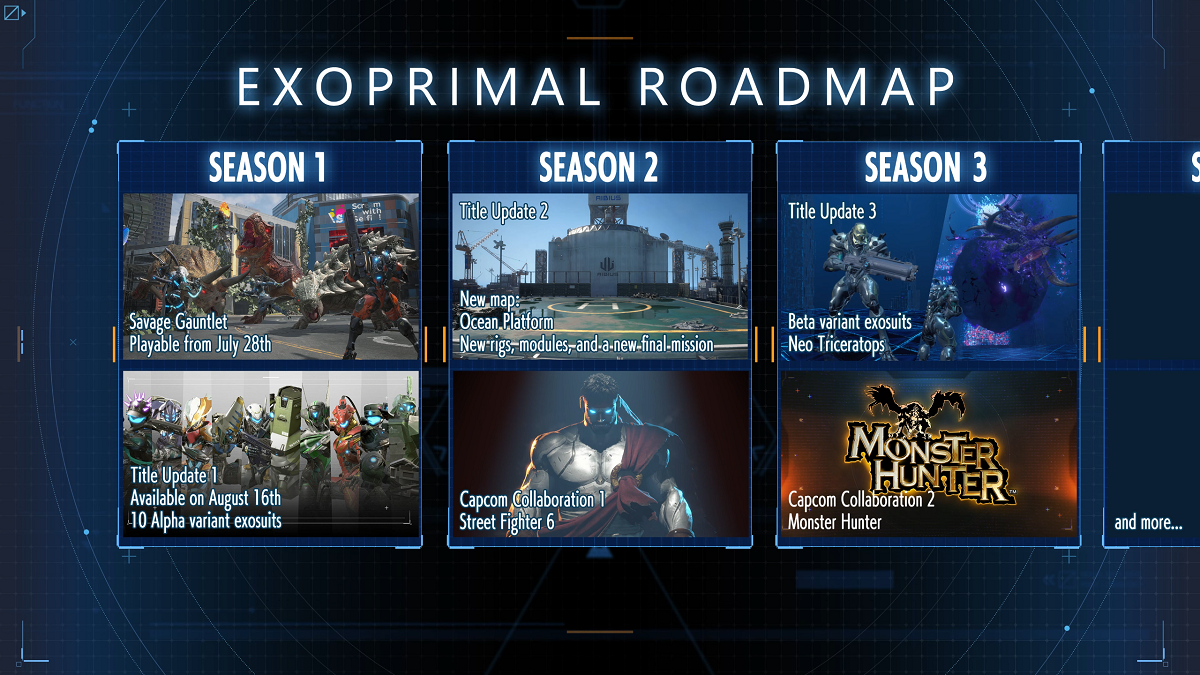 The first three seasons will include Street Fighter 6 and Monster Hunter crossover collaborations
Capcom hosted a showcase all about their highly anticipated upcoming sci-fi team-based shooter. During the event, Capcom revealed its roadmap for the first three seasons of Exoprimal that includes upcoming content over the next few months. Perhaps the most exciting reveal is two separate crossover events with popular Capcom titles: Street Fighter 6 and Monster Hunter.
Months of content is already in the pipeline for Exoprimal
Season 1 will kick off two weeks after release, and Exoprimal will receive its first update with an all new PvE mode: Savage Gauntlet. This mode will rotate tough weekly missions giving players a chance to test out their best loadouts in end-game missions. Rounding out Season 1 is ten new Alpha variant exosuits wielding unique weapons. This update will release on August 16.
In mid-October, Season 2 will add new missions, the Ocean Platform map, and even more exosuits. Street Fighter fans should look forward to Season 2 as it will feature a SF6 crossover collaboration. As part of the crossover, we will get new exosuits based on Ryu and Guile.
Finally, Season 3 will drop early next year featuring even more exosuits, a new Neo Triceratops boss fight, and a Monster Hunter crossover event.  No precise details were provided for this crossover, but we can assume there will be some new giant monsters from the Monster Hunter universe for us to beat up on.
Those looking to save the world from dinosaurs can do so soon. Exoprimal releases on July 14 on PC, PlayStation 5, PlayStation 4, Xbox One, and Xbox Series X|S. PC and Xbox players can check out the game for free as part of Xbox Game Pass. The dinosaur-themed game will launch with cross-platform functionality.